Being at the Shrine has taught me a number of valuable things already in my short three weeks of being here. Among them all, I must choose the lesson of "St. Anthony's Bread" as my favorite thus far. This idea manifests itself in the Ministry of Bread on the Common, a ministry that offers sandwiches, conversation, and a listening ear to Boston's homeless population every other Wednesday. Before interning at the Shrine, I had not really engaged in homeless ministry before and was eager to learn more, as the pull to serve the most vulnerable resonated with me. I started this ministry of Bread on the Common with the idea that it is about feeding the hungry and providing a sandwich to those in dire need. I learned by the second outreach that, though there are many in the homeless population who are very hungry by the time the sandwiches come around, there is a reason the ministry is called Bread on the Common and not Meat on the Common. This was explained to me in the context of St. Anthony's bread, which is the practice of giving bread, companionship, a listening ear, and another presence to those who need it most.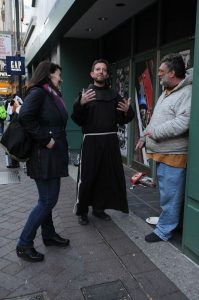 Volunteers at the Shrine are there for a very important purpose of serving those in need. But the ministry of Bread on the Common is different in the fact that it is less about the sandwiches and more about the presence of another person giving their time to someone in a very different place than they, that is, on the street or homeless, offering God's love in the form of conversation and listening. This ministry finds its importance in the smiles and appreciation of the homeless population, many of whom, on the surface, get just a sandwich or a pair of socks, but deeper down, get the recognition and appreciation of their human dignity that we all share.
It has been an eye-opening experience at the Shrine especially in this ministry, and I realize my immense blessing to be able to continue to learn, grow, and serve here.