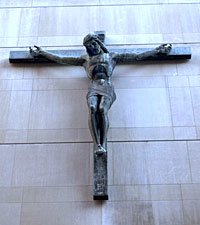 There is a constant flow of activity at the Shrine. Yet again, I have found that it is very difficult to choose one topic to write about in my biweekly blog post as there have been so many noteworthy moments. The following are just a few of of the events from past weeks.
Saint Anthony Shrine has the honor of hosting a monthly Veteran's Appreciation Luncheon. August's monthly luncheon was the program's One Year Anniversary! Our two amazing chiefs, Kevin and Earl, whipped up delicious Italian dishes and desserts that drew roughly forty Veterans out to Saint Anthony Shrine from the New England Center for Homeless Veterans. All of the veterans come in with a smile, a handshake, and a story. It is always a very lively atmosphere. I was lucky enough to get the chance to sit down with some of them and chat. There is a lot of hardship intermingled with many of the veterans' stories, which makes what the New England Center for Homeless Veterans and Saint Anthony Shrine do, so much more important. These luncheons are a way for us to show our appreciation for them and their service.
The next program that I participate in weekly is pulled off by Father Barry Langley and a handful of loyal volunteers: Seniors at Arch Street. After the 10 a.m. mass on Wednesdays, the senior's group heads down to the auditorium where there is a presentation, a movie, or an activity that is then followed by lunch. It is so lovely to see everyone that comes in. I am starting to recognize all of the usual friendly faces. Fr. Barry's volunteers set up each luncheon meticulously, which then makes each one of the luncheons very enjoyable and helps them run very smoothly. I had a wonderful time chatting with a few of the seniors this past week and am excited to see them again.
We have our bi-weekly program, Bread on the Common, on Wednesday evenings. MaryAnn Ponti, Andrea Caputo from our Women's Clinic, and roughly ten volunteers go out onto the streets of Boston to do outreach. I find this particular program very eye opening. It is difficult to see so many of our brothers and sisters suffering. Between the strong presence of drugs, alcohol, and violence that come with homelessness, hope can be lost in the mix of things. MaryAnn and Andrea are very committed to helping these people get their lives to a better place. It is a very taxing commitment. MaryAnn brought up that many people in her line of work struggle from something called "compassion fatigue". This happens because of the frequency at which one in her line of work sees so many suffering and the efforts to help are often unsuccessful. It becomes difficult to be compassionate and easier to be callous. The silver lining is that the success stories, the happy moments, the much needed help that is offered and accepted etc. become so much more meaningful.
During our Thursday Franciscan Food Center two weeks ago we had one of these happy moments. Roughly two month ago, a woman with her three children returned to the FFC after not coming in for several months. She had been violently attacked in her home and thus had not been coming in for food. The woman was very clearly struggling with so many burdens. However, because she was part of the Kid's Program, she was eligible to receive three $50 gift cards, one for each of her children. These gift cards are one of the needs-based distributions that the Kid's Program does throughout the year. She walked away with bags full of groceries, gift cards, and tears in her eyes. As her bruises and injuries started to heal we saw her more often at the FFC. Her kids have new clothes on and she always has a big bright smile for everyone working in the FFC. Two weeks ago she brought the FFC two beautiful bouquets of flowers as a thank you. It was very touching and thoughtful.
There have been so many fun and humbling moments here at the Shrine and I have enjoyed every minute. It is difficult not to when I am surrounded by all the Friars and volunteers. The laughter and smiles here are contagious. I am very blessed to be a part of the community.
Written by Anna Lenney; a rising Junior at College of the Holy Cross