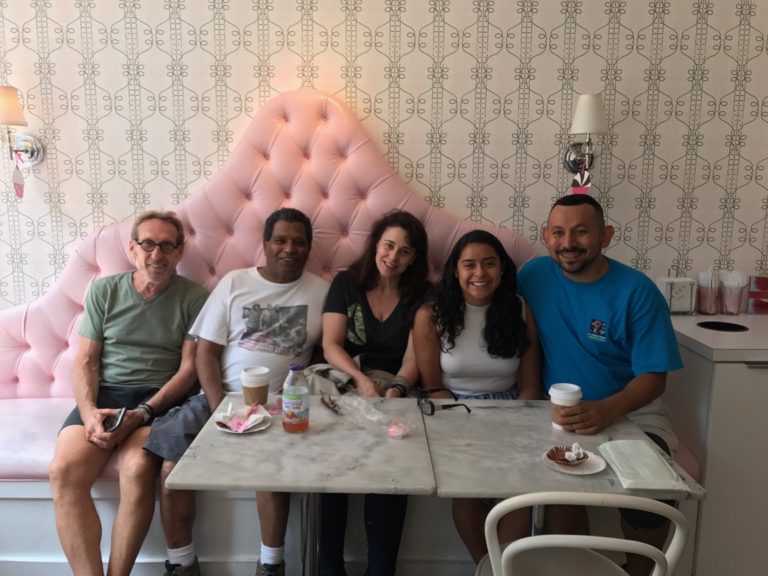 I met Br. Juan de la Cruz Turcios on my first day at Saint Anthony Shrine. He was very memorable among the many people I met that day because he started dancing after we were all introduced. I didn't realize it then but this is pretty normal occurrence for Br. Juan. If you have seen a Friar casually dancing or singing on the side most likely you've seen our Br. Juan and if you've been lucky enough to meet him, you will know that he breaks out into song and dance for fun on a regular basis. Whether he is in the middle of lifting heavy boxes out the freezer for the Franciscan Food Center or eating lunch after a long food delivery day, Br. Juan is always bursting out into contagious laughter or trying to make someone smile. A few weeks ago Br. Juan got a whole line of volunteers at the Franciscan Food Center to break out into song and dance after humming the tune to, "The Chicken Dance".
Br. Juan is leaving the Shrine to visit family in El Salvador and then will be returning to Chicago where he will continue his studies for the priesthood at the Chicago Theological Union. His good humor is not the only thing about him we will all miss. His thoughtful discussions and questions during breaks on both theological and political matters have been fascinating and very enjoyable to listen to. Everyone here at the Shrine is disappointed to see him go. Our prayers go with him as he continues his journey and we are already anticipating his next visit.
Good luck Brother Juan!
Written by Anna Lenney; a rising Junior at College of the Holy Cross