Dinner of Dreams
Donated by: Regina Pisa and Paul Gauron; Table decor: Rafanelli Events and Winston Flowers
Dinner for 8 prepared by Regina M. Pisa and Paul Gauron
Award-winning dinner for 8 prepared by Pope Francis Award Dinner Committee members Regina Pisa and Paul Gauron at Regina's home in Chestnut Hill. Highlights of the dinner include a multi-course meal, accompanied by rare wines from Regina's world-class wine cellar, and completed by Paul's homemade pies. Regina is chairman emeritus, Goodwin Procter, and Paul is general counsel, New Balance. Together, they are Pisaville's master chef and master baker! The Dinner of Dreams is being offered at auction for the fourth consecutive year.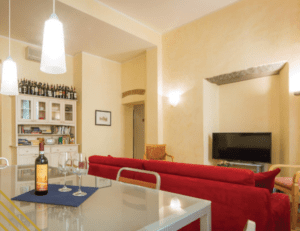 Florentine Getaway
Donated by: Tecla Francese and Dominic Bisignano
One-week stay in Florence, Italy
Situated in one of the most beautifully ancient Florentine streets, this renovated apartment is tastefully furnished. Just a few meters from Piazza Santa Croce and a few minutes' walk to the Duomo and the Ponte Vecchio, it is the ideal starting point to visit Florence. It is also a convenient location, via excellent train connections, for day trips to places such as Assisi, Bologna, Lucca, Pisa, Rome, Siena.
The air-conditioned apartment features an elevator, living/dining room, kitchen, double bedroom with en suite bathroom, twin bedroom with second bathroom, washer and dryer and high-speed Internet. Wednesday to Wednesday.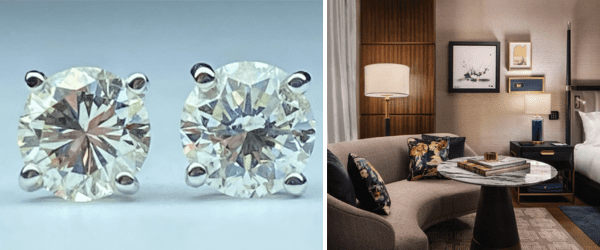 Diamond Earrings and a Night on the Town
Earrings donated by: DePrisco Diamond Jewelers, Boston; Hotel stay donated by: Jordan Warshaw, Raffles Hotel/Accor Group, Sue Hawkes and Simon Rodrigues
14-karat white gold four-prong basket diamond post earrings and one night in a suite at the Raffles Boston Hotel
Take home these stunning 14-karat white gold four prong basket diamond post earrings. The diamonds are two carat total weight with a retail value of $15,000.
Enjoy a premier suite in Boston's newest luxury hotel, located in Back Bay. Package includes breakfast for two at the hotel and dinner for two at Amar restaurant. Retail value: $3,000
Total estimated value of package: $18,000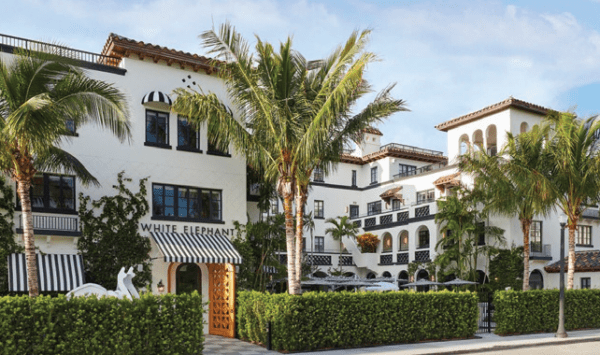 Palm Beach Getaway
Resort stay donated by: White Elephant Resorts on behalf of the Karp Family; travel vouchers donated by: Chris Hobein
Two-night stay at the White Elephant Palm Beach luxury resort and travel vouchers on JetBlue Airlines
Enjoy two nights at one of the most luxurious properties in Palm Beach, an historic landmark hotel that dates to the 1920s. The White Elephant features fully restored Mediterranean architecture with modern appeal. Each of the rooms includes refrigerator, Wi-Fi, fine Italian linens, Nespresso coffee maker, and signature coastal touches to make you feel at home in Palm Beach. White Elephant Palm Beach is a smoke free & pet free environment.
Package also includes two round-trip travel vouchers on JetBlue Airlines.
Valid from June to October 2024 other than holiday weekends.