Founding Partner, The HYM Investment Group, LLC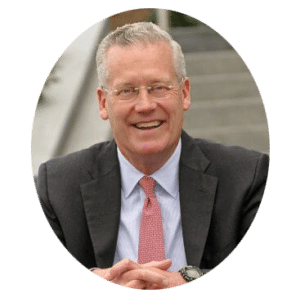 Thomas N. O'Brien is the Founding Partner and Managing Director of The HYM Investment Group, LLC.
 HYM is currently leading the development of over nine (9) million square feet of mixed-use development in Greater Boston, including the following notable and complex projects: Bulfinch Crossing, Boston Landing, and NorthPoint.
Prior to HYM, Tom served as a Managing Partner for JPI, a national developer and owner of multifamily communities, and as a Managing Director in Boston and New York for Tishman Speyer, one of the world's leading real estate firms. Tom also led the Boston Redevelopment Authority as its Director and Chief of Staff, overseeing the development of over 12 million square feet of projects in Boston, from 1994 to 2000.
Tom served as the General Counsel and Director of Finance at the Massachusetts Industrial Finance Agency from 1989 to 1994. He began his career as an investment analyst with the American International Group ("AIG") in New York. He has served as Chairman of The Greater Boston Real Estate Board and currently serves on the Board of the Taubman Center for State and Local Government at Harvard University and as Vice Chair of the Board of Overseers of The Anti-Defamation League of New England. In 2011, the Governor of Massachusetts appointed Tom to the Board of the Massachusetts Housing Finance Agency.  In 2016, Mayor Martin J. Walsh appointed Tom to the Board of Trustees of the Rose F. Kennedy Greenway Conservancy. Tom is a graduate of Brown University and Suffolk University Law School, and is a member of the Massachusetts Bar.
Tom O'Brien is very familiar with the Shrine's healing ministries, particularly the Spiritual Companion Program, and the Emmaus Ministry. Tom's life work mirrors the charism of St. Francis of Assisi. Truly he embodies the Franciscan value of inclusiveness. Social justice issues are at the core of his philanthropic work. The Anti-Defamation League of New England honored Tom O'Brien with the Abraham Joshua Heschel Interfaith Relations Award last year. Tom established the Marisol Foundation, which honors Tom's daughter.
Tom serves on the Mil Milagros Inc. board to honor the memory of his daughter, Marisol Liliana O'Brien, who was born in Guatemala. Marisol died on Dec 20, 2008. The O'Brien family has traveled to Guatemala to meet the Mil Milagros children, families and schools. Mil Milagros supports nutrition, health and education programs for women and children in Guatemala.
St. Anthony Shrine is proud to honor Tom O'Brien with the 2017 Pope Francis Award October 12, at the Seaport Hotel, Boston.