The Franciscan Friars of St. Anthony Shrine invite you to join them in welcoming Relics of Saint Anthony of Padua to Arch Street on Sunday, September 1st.  These relics will be located in the 1st-floor church from 6 AM – 8 PM with a break for the 12 Noon Spanish Mass.  St. Anthony will be visiting our church in the form of two precious and first-class relics from the Pontifical Basilica in Padua, Italy. The relics will be accompanied by Fr. Alessandro Ratti, one of fifty-four
OFM Conventual Franciscan Friars who minister in the Basilica where the Saint is buried. This is the Franciscan order of St. Francis of Assisi. St. Francis and St. Anthony of Padua knew each other during their lifetime in the 13th century.
Pope Benedict Emeritus said of relics "By inviting us to venerate the mortal remains of the martyrs and saints, the Church does not forget that, in the end, these are indeed just human bones, but they are bones that belonged to individuals touched by the living power of God. The relics of the saints are traces of that invisible but real presence which sheds light upon the shadows of the world and reveals the Kingdom of Heaven in our midst."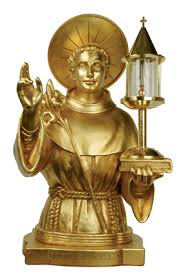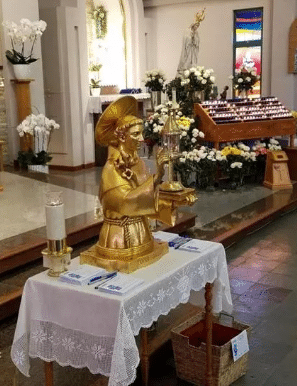 Prayer petitions with holy cards will be distributed by Friar Alessandro to allow parishioners to write their personal prayer petition to the saint. The writing of your intentions is a worldwide tradition when venerating a relic of a saint. Fr. Alessandro will bring the petitions back to the Basilica in Padua and place them at the tomb of St. Anthony. The tour officially ends back at the Tomb of St. Anthony where the Friars will gather to pray for the saint's intercession upon our intentions and petitions.
To learn more about St. Anthony of Padua, please visit: www.saintanthonyofpadua.net Or call Tom Muscatello, North America Representative at 914.263.8841