A prophetic Franciscan Catholic community welcoming all people through prayer and outreach
All Are Welcome
The central focus of the Shrine's ministry has remained constant for 65 years: providing a convenient and prayerful setting for people desiring to praise and worship our God – currently through 12 weekend and 27 weekday Masses, as well as an extensive schedule for the Sacrament of Reconciliation. The Shrine also has over 30 outreach and evangelical ministries.
St. Anthony Shrine has over 30 outreach programs and evangelical ministries.
 Most have a need for sponsors and volunteers. Please see our
ministries
page for more information!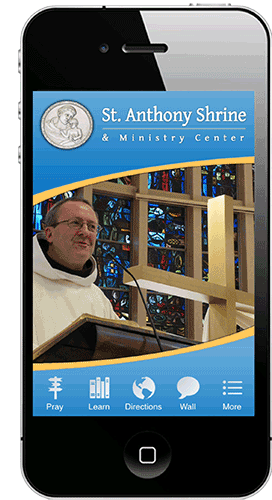 Download our NEW App
Our new app is packed with features to help you interact with the Shrine community. App Features Include: Mass and Confession schedules, Daily events at the Shrine, Information of our outreach ministries, among other great things. Find it in th

e Google Android App Store

or the

Apple App Store

or use the QR Codes below.