St. Anthony Shrine has Masses every day. Masses are celebrated in the Second Floor Church, unless otherwise noted.
Normal Schedule
Monday-Friday
Morning: 6:00, 7:00, 11:45 am[br] Afternoon: 12:30, 5:15pm[br]
In addition, Wednesdays have an extended schedule with the 10:00 am and the 5:15 pm (Spanish)
Tuesdays: St. Anthony Devotions at every Mass[br]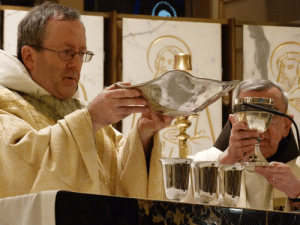 Thursdays: St. Jude Devotions at every Mass
Saturday
Afternoon: 12:00 pm
Evening: (Sunday Vigil Masses) 4:00♫, 4:15 (First Floor Church) & 5:30 pm♫
Sunday
Morning: 6:00, 7:30, 9:00, 10:00♫, 11:15♫, 12:00 p.m. (in Spanish in the First Floor Church)[br]Afternoon: 12:30 pm♫[br]Evening: 4:00♫ & 5:30 pm♫
(The ♫ symbol indicates Masses celebrated with music from The Arch Street Band.)
Legal Holidays
Shrine opens at 7:00 am on legal holidays.[br]Morning Masses: 8:00 & 10:00 am[br]Shrine closes at 11:00 am on legal holidays.[br]Note that Christmas and New Year's Masses are scheduled each year and may vary from the Holy Day and Legal Holiday Schedule.
Low-Gluten Hosts Available
We have low-gluten hosts, as authorized by the U.S. Bishops Conference, available for those persons who suffer from celiac disease or wheat allergies. Please inform the priest of your special need well before Mass begins.