Thank you for supporting my run!
Fr. Ray is running in the Falmouth Road Race on Sunday, August 20, on Cape Cod.
All donations on this page will go directly to support the ministries of St. Anthony Shrine.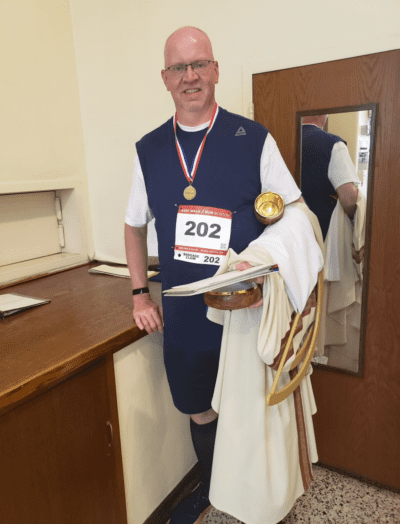 I am looking forward to my 4th race in Falmouth and it will be my longest one to date at 7 miles. Wish me luck.
Thanks,
Fr. Ray
Your gift towards my race will help support the important work of the Shrine.
$1,000 – can cover the costs of the Monthly Luncheon for Veterans at St. Anthony Shrine. Whether they are homeless or transitioning into independent living, our veterans need support and a sense of community. These monthly luncheons are a bright spot of friendship and human connection.
$500 – can provide essentials like beverages and sunscreen during the summer and hand warmers during the winter. All year round there is a need for socks and various pharmacy items to help someone get through the day, while the Shrine builds a trusting relationship with him/her.
$250 – can provide get-away bags for women in imminent danger from traffickers – a three-day supply of clothing, toiletries, drinks, snacks, and gift cards.
$100 – Can help buy gift cards to provide dignity to someone with no money to be a customer in a Dunkin Donuts or McDonald's. This will allow each person to escape the cold and the elements and use a restroom.
$50 – can provide new shoes in order to protect someone's feet from the elements year-round.
$25 – can provide hats and gloves to give out during the winter.