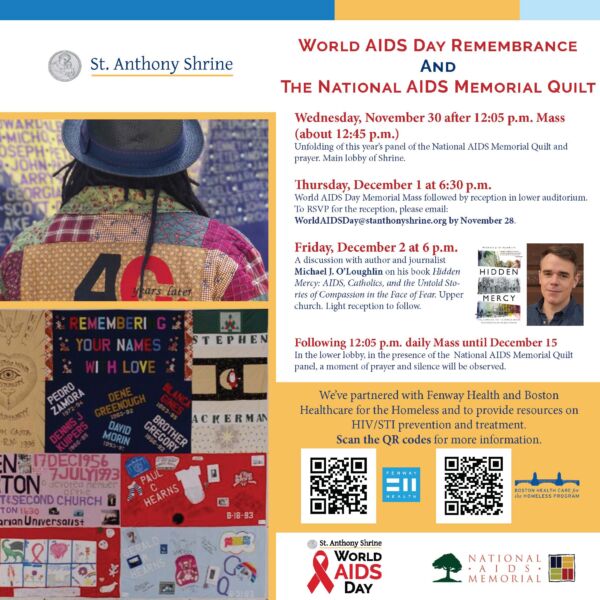 December 1 is World AIDS Day, and again this year St. Anthony Shrine will bring part of the AIDS Memorial Quilt to the Shrine. The AIDS Memorial Quilt is a 54-ton tapestry that includes nearly 50,000 panels remembering more than 110,000 individuals.
Loved ones of those who have died of AIDS need a safe space to mourn and remember together. As part of World AIDS Day, St. Anthony Shrine will hold a Mass of Remembrance with a reception to follow, daily prayer services of remembrance, and a discussion with Michael O'Loughlin, author of Hidden Mercy: AIDS, Catholics, and the Untold Stories of Compassion in the Face of Fear.
The St. Anthony Shrine LGBTQ+ Spirituality Ministry is a community of faith where lesbian, gay, bisexual, transgender, and queer Catholics can explore, express and celebrate their whole wonderfully created selves and their Catholic faith and grow in hope with one another. Friends and allies are always welcome.
If you would like to donate to this ministry, please visit our giving page. Thank you for your support.